Registration
Postponed Until Further Notice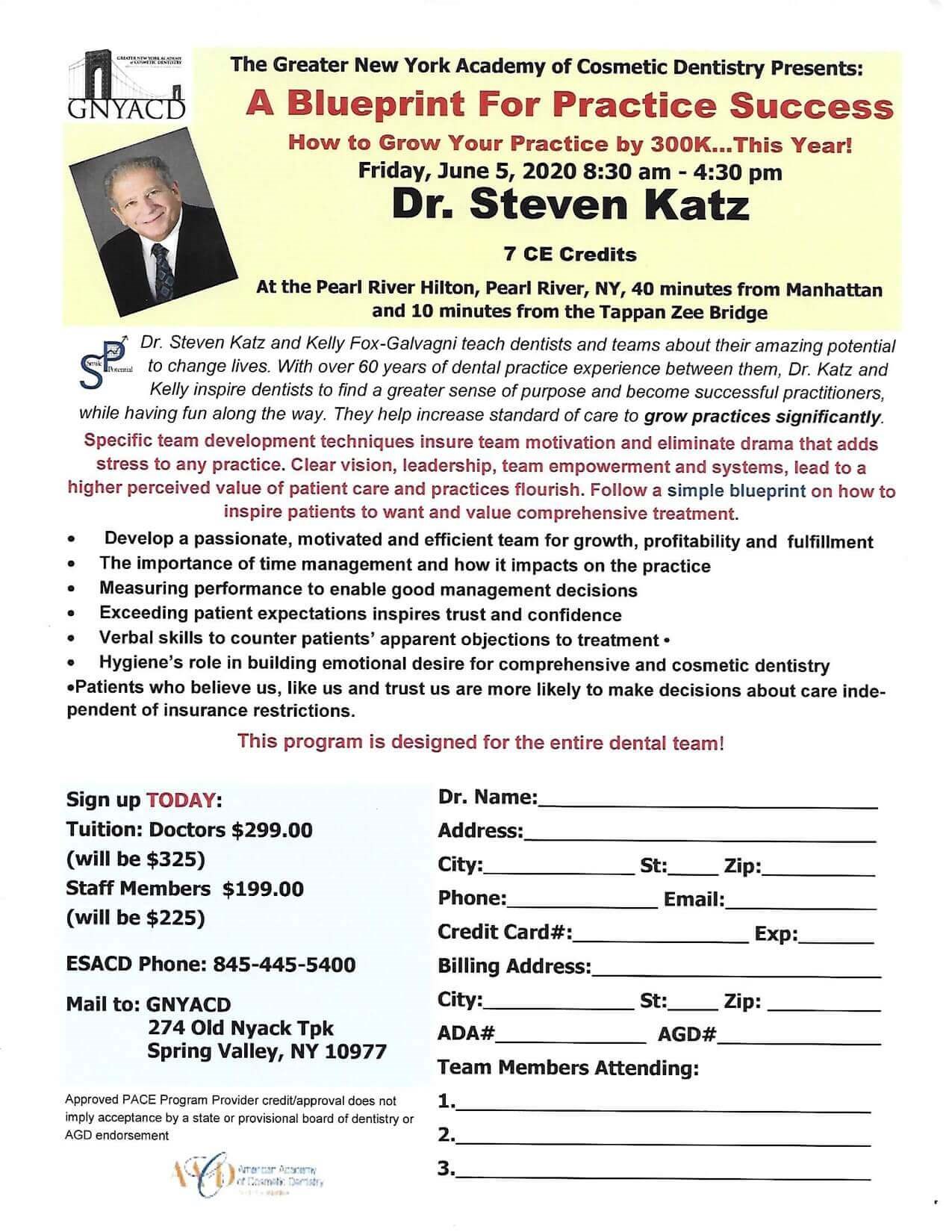 The Greater New York Academy of Cosmetic Dentistry Presents:
Dr. Steven Katz - A Blueprint for Practice Success
This event has been Postponed Until Further Notice.
7 CE Credits
At the Pearl River Hilton, Pearl River, NY, 40 minutes from Manhattan and 10 minutes from the Tappan Zee Bridge
Dr.Steven Katz and Kelly Fox-Galvagni teach dentists and team about their amazing potential to change lives. With over 60 years of dental practice experience between them, Dr. Katz nd Kelly inspire dentists to find a greater sense of purpose and become successful practitioners, while having fun along the way. They help increase standard of care to grow practices signigicantly.
Specific team development techniques insure team motivation and eliminate drama that adds stress to any practice. Clear vision, leadership, team empowerment and systems, lead to a higher perceived value of patient care and practices flourish. Follow a simple blueprint on how to inspire patients to want and value comprehensive treatment

Immediate vs. Delayed Socket Management

Develop a passionate, motivated and efficient team for growth, profitability and fulfillment
The importance of time management and how it impacts on the practice
Measuring performance to enable good management decisions
Exceeding patient expectations inspires trust and confidence
Verbal skills to counter patients apparent objections to treatment
Hygiene's role in building emotional desire for comprehensive and cosmetic dentistry .
Patients whi believe us, like us and trust us are more likely to make decisions about care independent of insurance restrictions.




Sign up TODAY:

Tuition:

Doctors - $299.00 (Will Be $325)

Staff Members - $199.00 (Will Be $225)

ESACD Phone: 845-445-5400

Mail to:

GNYACD
274 Old Nyack Tpk
Spring Valley, NY 10977
---